Business Transformation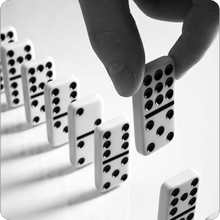 Continual changes in customer needs and competitive market dynamics are pushing IT integrator up to the solution value curve. NextHope understands the need to shift to a new process-oriented customer engagement model and to create the opportunity to transform your business.
Business Transformation:

Requires significant process improvements across business units with conflicting goals and/or values
Requires greater Business-IT alignment between business operations and technology-enabled solution
Has higher complexity due to :
- The number of stakeholders required to collaborate
- The complicated nature of the business problem
- The increased number of solution requirements
Involves higher risk due to the challenges of delivering large change projects successfully.
NextHope adopts the "Architectural Approach" for its own business model and the way it delivers to customers.
Aligning Architectures ensures business objectives are met through IT Solutions
The NextHope Architectural Approach :
Creates models, roadmaps, and business cases
- Uses levels of design to create distinct models of the business, data and application, and infrastructure layers.
- Reflects and addresses the multiple viewpoints of key stakeholders across the customer's organization.
Uses a repeatable and proven process – a method that reliably implements a "fit-for purpose" business solution
- Actively manages business and solution requirements and iteratively validates them with key stakeholders (change)
Focuses on "just enough architecture" to adequately position and validate the proposed business solution.
Our competitors may have our Networking Technology practices, but We sell solutions "Architecturally"
Unpack customer business goals and drivers
Frame a solvable business problem
Design a business solution that meets the customer's needs
Customize and integrate the technology products and services that deliver a fit-for purpose business solution
Map out the customers change process and the realization of business benefits from the delivered solution
Business Architecture definitions
"A Blueprint of the enterprise that provides a common understanding of the organization and is used to align strategic objectives and tactical demands."
The Object Management Group (OMG)
"The enterprise architecture is the total composition of the business elements and how they relate and work together. These elements include business processes, software, hardware, people, departments, projects, products and services. Any change resulting from the business need will ultimately change the enterprise architecture. Therefore, you must first understand the architecture, current state and future state."
The Open Group Architecture Framework (TOGAF)
"Business Architecture articulates the structure of an enterprise in terms of its capabilities, governance structure, business processes, and business transformation. The business capability is "what" the organization does, what the business processes are, and "how" the organization executes its capabilities. In articulating the governance and information, the Business Architecture considers all external actors to an enterprise (including its customers, suppliers, and regulators), to ensure that flow in and out of the enterprise are captured".
The Open Group
Learn more about Business Architecture