Enabling service improvement through best practice
NextHope has built its own practices methodology founded both on ITIL v3 standards– and Cisco best practice lifecycle services management.  Our consultants hold IT leading-vendor accreditations and the service management team are trained and qualified in ITIL standards.
Currently, NextHope is in progress to obtain ISO/IEC 20000 standard certification.
Value is not derived from the elements of a product or a service.
Value is derived from the processes with which a product or a service is put together and offered to the customer
NextHope's top executive management places "Processes" at the Core of the company keys factors success and its operation strategies.
Apart from the technical expertise, our "People" are trained and work permanently on processes improvement.
Each "Technology" is first adapted on established and repeatable processes before being part of our products and services catalogs offering.
NextHope delivers services across the spectrum of IT infrastructure management to include ITIL v3 standards and Cisco Lifecycle Services processes. This proven methodology of engagement delivers a consistent level of service across entire technology portfolio and ultimately drives client satisfaction.
Our certified expert engineers assess your business needs and design solutions that meet your business requirements. NextHope's project management and implementation team prepare infrastructures for deployment, deliver and install all components, and guarantee, they are functioning up to specifications for carefree day zero performance. Finally, NextHope's Support Center provides Day2 support for ongoing turnkey operations.
All services portfolios proposed by NextHope are based on its IT Services Management Methodology.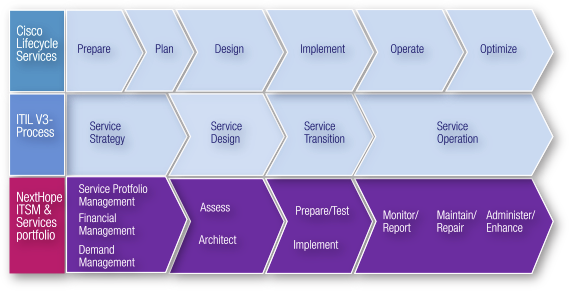 ITIL v3
ITIL (the IT Infrastructure Library) is a set of books and documents that are used to aid the implementation of IT Service Management. It provides a comprehensive framework of processes and best practice advice for IT Service Management.
All NextHope services are built within the ITIL v3 framework to apply industry best practices to customer's IT environment. This lies on end-to-end ITIL processes from Design, Transition (Build) through Operation Services.
Benefits of ITIL v3 ITSM model
Disciplined approach to IT: Design, Transition, Operate, and Continual Improvement
Improves alignment of IT solutions with business needs
Defines IT in terms of "services" (focusing on the value to the business), rather than "systems" (focusing on IT components)
Efficiency increased for IT staff through automation of repeatable processes
Supports the ability of IT to measure and improve internal performance and service provisioning, to increase the value provided to the business
Clearly identifies roles and responsibilities for IT infrastructure and operations, and establishes accountability
Provides a common vocabulary which facilitates IT personnel communication
The Cisco Lifecycle Services Approach
The Cisco Lifecycle Services approach defines the minimum set of activities needed by technology and by network complexity, to help successfully deploy and operate Cisco technologies and optimize their performance throughout the lifecycle of a customer network.
The Cisco Lifecycle Services approach provides customer value in a variety of ways.
Increase the network's value and return on investment
Increase network staff productivity
Improve network availability, resiliency, security, and scalability